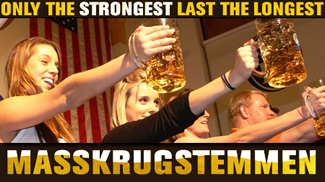 Qualifiers:
Fri., Sept. 1st at 8:00pm
Sat., Sept. 2nd at 8:00pm
Sun., Sept. 3rd at 8:00pm
Mon., Sept. 4th at 4:00pm
Fri., Sept. 8th at 8:00pm

Finals:
Sat. Sept. 9th at 8:00pm

2023 Rules & Entry Form: Click here (Note: If you prefer to register on-site, there will be registration forms at the ticket sales table in the Bier Garten. You can pick one up at any time during the event, fill it out, and submit it with your $20 to the Bier Garten ticket concessionaire. They'll hold onto the forms. Just make sure you're in the Bier Garten when the competition begins.)

At The Cleveland Labor Day Oktoberfest when we talk about someone who can't hold their beer, we're not referring to their tolerance… we're talking about
Paulaner's Masskrug Contest! So if you're looking for a reason to hit the gym, work your core, and add some definition to those triceps, one word for you: Masskrugstemmen! Or perhaps you're already in training, keep a daily log of your Body Masskrug Index, and have sold all your worldly possessions but for a stein, a liter of beer and a dream. For the novices among you, a bit of explanation: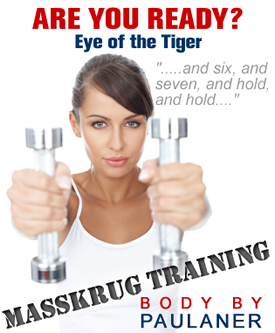 "Masskrugstemmen," translates loosely to
the lifting of a liter mug of beer
(leave it to Bavarians to condense those seven words to one for the sake of convenience). Masskrugstemmen is a well-known and competitive Bavarian sport, right up there with masskrugdrinkin (we'll let you work out the translation). The "Masskrug," a 1 liter Stein, is held with one arm, completely outstretched and parallel to the floor. The goal is simple: to hold a filled stein for as long as possible. Sounds easy, right? It's not, but consider the gauntlet thrown, as you have now been officially challenged to enter one of our Masskrugstemmen Contests to be held in the Cleveland Oktoberfest Bier Garten (see dates and hours above).
Each evening the longest stein holding time will be recorded. Winners from each day will receive comp tickets to return for the Masskrugstemmen Championships on the second Saturday.
RULES AND REGULATIONS:
To participate in the Masskrugstemmen you must be able to hold "The Masskrug," a filled 1 liter stein to be held with one arm (left or right), stretched out in front of the body (not sideways!), and completely parallel to the floor. If the arm holding the Masskrug is not absolutely parallel to the floor, the contestant gets a warning – after two warnings the contestant is disqualified.

The winner of the Masskrug Finals held on Saturday, Sept. 9th, 2023 will receive a $500 Visa Gift Card!

*NOTE: Please review the legal disclaimer below before participating in any stein holding contest. Management reserves all rights.

STEIN HOLDING CONTEST LEGAL DISCLAIMER:
• Masskrugstemmen is NOT a drinking game. The competition is about holding a filled 1 liter mug on an outstretched arm in compliance with the rules set by the organizers.
• I am aware of the risks involved in Masskrugstemmen, e.g. cramps, muscle tension, or other injuries that might occur, including to my self-esteem.
• Neither The Cleveland Oktoberfest nor any sponsoring brewer are to be held responsible for any injuries that occur in connection with the competition.
• Neither The Cleveland Oktoberfest nor any sponsoring brewer encourage drinking. Even though Masskrugstemmen involves a filled 1 liter mug, we strongly encourage all in attendance to drink responsibly and to neither drive nor operate machinery while under the influence of alcohol.

** Every contestant hereby agrees that he or she is participating in this activity with the knowledge that it could result in injury and specifically absolves The Cleveland Oktoberfest and any sponsoring brewer from any and all liability resulting from their participation.